Typically, the average person spends approximately one-third of their life asleep. That's a lot of time in the bedroom! Yet once the morning alarm rings, it's easy to neglect your bed space for the hustle and bustle of the day—or the morning sprint to the coffee maker.
If you're short on time, the extra hour you'll gain from daylight saving time is the perfect chance to challenge yourself to a one-hour bedroom cleanup! With just a few simple steps, you can create a sleep space that not only looks good but is also healthier for you.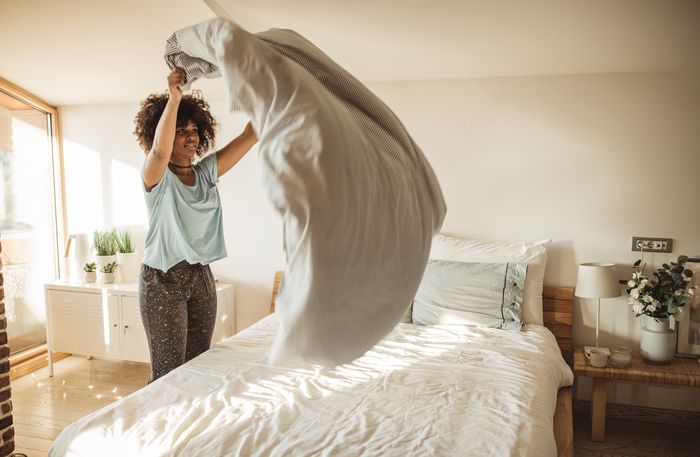 Set Yourself Up for Success
When it comes to cleaning the bedroom, it's easy to become distracted (there's that missing sock you've been looking for!). Whether you accept this challenge as one-time or as a new routine, make sure you don't lose your steam by establishing three simple cleaning goals:
Dusting
Sanitizing
Organization
First, start by giving your bedroom a complete dust-down. Work your way from top to bottom, remembering cobwebs, ceiling fans, and blinds. For really dusty bedroom items like bookshelves, plants, and TVs, give them an extra wipe-down with a dryer sheet. Because they repel electrostatic, they'll minimize dust attraction.
If you've already stripped your bed, leave your mattress protector on to keep the dust from falling onto the mattress. If you don't already have one, then consider it part of the cleanup checklist! By protecting your mattress from spills and accidents, you're also insuring it against mold, mildew, and allergens that are attracted to moisture. Even better, the barrier between your mattress and a mattress protector prevents bed critters from hitching a ride in your bed.
Next, strip your mattress of its bedding. For an even deeper clean, you can sprinkle your mattress with baking soda (add a drop or two of essential oils, too, if you like!). The longer it sits, the better, but leaving it for the remainder of your bedroom deep-clean is plenty.
Pro tip: A sprinkle of baking soda works to refresh your carpet, too!
Declutter to Destress
Fact: Clutter stresses the brain, meaning a busy bedroom is an unhealthy bedroom. Finish the hour with a final roundup of clothes, shoes, toys, or whatever else you have in your sleep space. Baskets, hampers, and even storage benches make easy work of bedroom clutter, plus they look stylish.
Explore all your bedroom's spaces for organization potential. Whether it's under the bed, on the wall, or behind the door, dedicating crafty areas for bedroom items—like a storage trundle, shelving, or a mirror—can be the key to staying organized and on track to maintaining a clean bedroom.
Wrap Up Your One-Hour Cleaning Challenge
Finally, whip out the vacuum. Start with your mattress, making sure to use the mattress or upholstery attachment to vacuum up all the baking soda. Pay extra attention to the seams, tufts, and in between the mattress and foundation. These are havens for dust mites who thrive in moist, dark spaces.
Next, give your carpet a go, making sure to get all the dust bunnies beneath your bed. Did you know your vacuum cleaner isn't just for soft surfaces? It's also great at picking up clingy dust balls and lint on hardwood floors, blinds, and curtains.
Ahh—looks and feels clean already! How about some finishing touches?
Opt for candles in relaxing scents such as eucalyptus, lavender, or linen for a cozy feel, or air purifiers that keep your room fresh and sanitized day and night.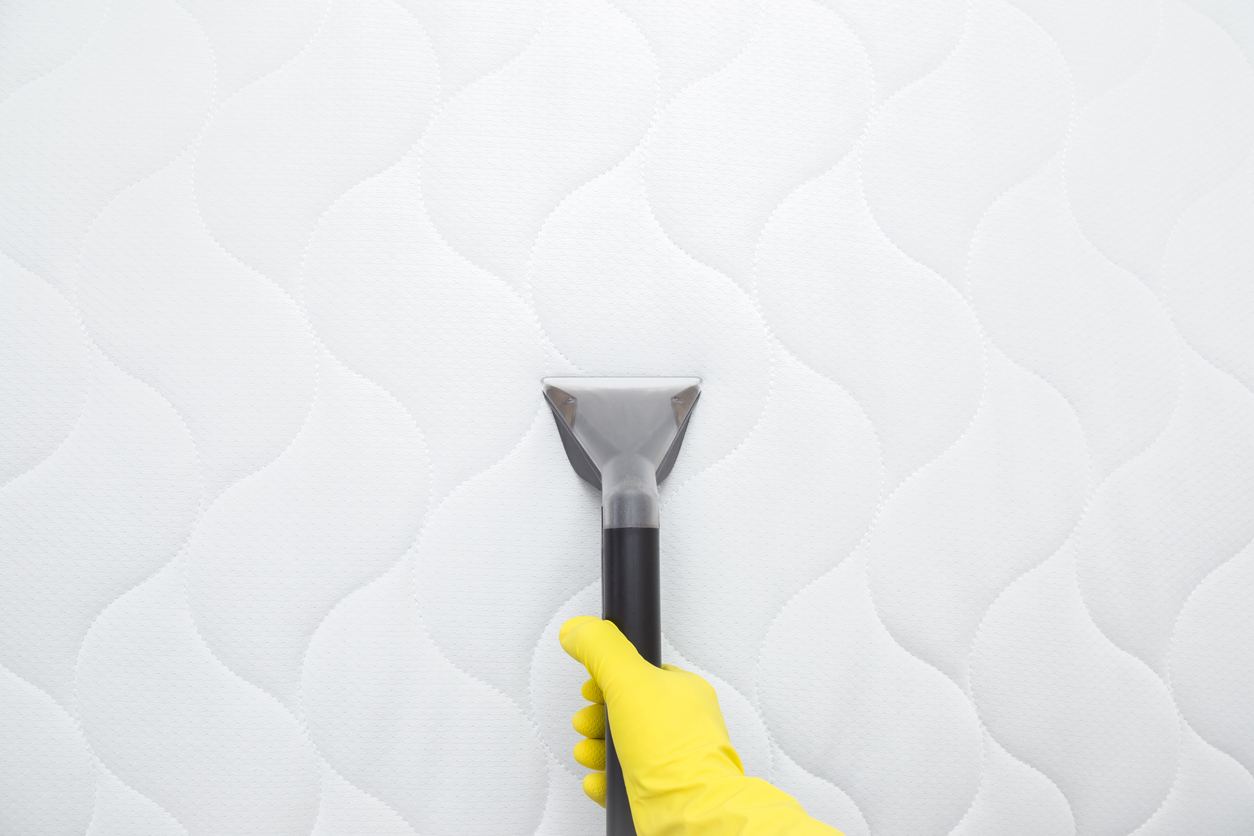 Take the Challenge to the Next Level
If you're feeling like a one-hour cleaning pro already, share the challenge with the rest of the family. This one-hour cleaning routine can be applied to any room! So, if you're looking to engage your little ones in some friendly competition—or simply a way to sneak them into cleaning the guest bedroom in time for the holiday—make this a productive family activity. Once you've all become masters of the bedroom speed cleaning, you can easily add this to your weekend to-do list!
For even more ways to give your bedroom a refresher, shop everything from bedding to mattresses to mattress protectors. We proudly carry a wide selection of styles from brands you know and trust. Shop online or in-store knowing our friendly experts are ready to help you create a healthy sleep space you'll love night after night.
Give us a call or stop by for any mattress or bedding needs!